2012 NCABL Pennant Winners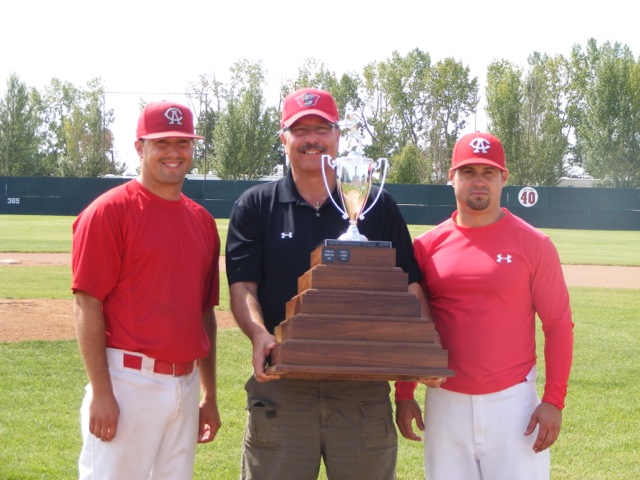 Jordan and Luc Riopel accept the Servus Cup from John Bosman on behalf of the Camrose Axemen who captured the 2012 NCABL pennant with a 14 – 4 record.
Summary of Award Winners: 2012
Servus Cup: Awarded to the Camrose Axemen
Manager: Wes Harrison

The Camrose Axemen first joined the NCABL in 2008. The club has been steadily improving since that time having narrowly missed the post-season last year with a record of 11-8-1, finishing 5th among eleven clubs. This season the Axemen acquired several new players who have greatly contributed to their on field success resulting in the club posting a regular season record of 14 wins and 4 losses which not only put them into the Championship Semi-Final Series for the first time but also into the NCABL record books as the second recipient of the Servus Cup, emblematic of regular season supremacy.

Bob Kootenay Memorial Award: presented to the Manager of the Year
Recipient: Randy Gregg, Edmonton Blackhawks

Randy Gregg has consistently fashioned competitive clubs since having entered the NCABL back in 2005. After failing to earn a post season berth in his first three seasons in the League, Randy has since led his club to five consecutive post season appearances. His NCABL resume includes a previous Manager of the Year Award and pennant in 2008 to go along with a single League Championship. This year the Blackhawks battled the Axemen to the bitter end of the regular season before bowing to Camrose by only half a game. The Blackhawks finished the regular season with a 13 -4 – 1 record. Randy's approach to the game of baseball has always incorporated strong elements of personal development and leadership. Sport for Randy is a conduit through which many life lessons may be learned. His players have certainly benefitted from his consistent and dedicated leadership, characteristics for which he is being recognized by his peers today.



| | | |
| --- | --- | --- |
| Randy Gregg |  Edmonton Blackhawks |  54 ballot points |
| Adam Sawatzky |  Westlock Red lions (first runner-up) |  53 ballot points |
| Wes Harrison |  Camrose Axemen (second runner-up) |  43 ballot points |
Dan Gerlach Memorial Award: presented to the Most Promising Junior Player
Recipient: Padon Brenholen, Sherwood Park Athletics

Rare are the multiple winners of this award. Padon Brenholen of the Sherwood Park Athletics joined an exclusive club of great young NCABL stars. Other repeat winners of the most promising junior player award include the likes of Rick Provencal, a Red Lion alumni and hall of famer, who twice won this award as a member of the Vimy Blues. Another member of the Red Lions' great alumni to have won this award an unprecedented five times is Terry Vandenborn. The only other double winners include Justin Pysar of the Morinville Pioneers and Jason Lee, also of the Pioneers. Pysar completed four years of baseball in an NCAA Division I school while Lee went on to play professionally in Korea. Padon led the NCABL in hitting with a blistering .453 batting average on 66 plate appearances. He amassed 14 RBIs
over the regular season while striking out only once. Despite recording six errors, Padon's defensive skills helped propel the Athletics into the post season for the first time in their history as his strong play in the closing weeks of the season propelled his club to eight consecutive victories enabling the Athletics to edge out the Legal Indians.

Top three most promising junior players in the NCABL

| | | |
| --- | --- | --- |
| Paden Brenholen |  Sherwood Park Athletics |  55 ballot points |
| Kris Johnson |  Westlock Red Lions |  26 ballot points |
| Blair Mulder |  Camrose Axemen |  23 ballot points |
Most Valuable Player of the Year Award: presented to the player whose singular contributions over the regular season most benefitted his club
Recipient: Adam Sawatzky, Westlock Red Lions

Adam Sawatzky is the consumate Red Lion, a baseball player whose love of the game and passion for it is immediately evident. Positioned in the infield, Adam will always provide his club with excellent heads up defense; start him on the bump and he'll almost always give you a complete game; bring him into a pressure filled situation and Sawatzky will relish the pressure and produce results. This season, more than ever, Adam was called upon to be all of these things for his club as they posted a third place finish to qualify for the post season. After pitching 61 innings of regular season baseball and posting a 2.41 ERA placing him sixth overall among league pitchers, Adam relished any other opportunity to contribute to a winning cause. For his total dedication and immesurable on-field contributions to the game, Adam Sawatzky was recognized and honoured as the 2012 recipient of the Most Valuable Player of the Year Award.

Top ten regular season most valuable players in the NCABL
 
| | | |
| --- | --- | --- |
| Adam Sawatzky |  Westlock Red Lions |  62 ballot points |
| Regan Hoet |  Edmonton Blackhawks |  58 ballot points |
| Colin Vaughan |  Sherwood Park Athletics |  53 ballot points |
| Mike Cote |  Mayerthorpe Mets |  37 ballot points |
| Matt Kukovica |  Edmonton Blackhawks |  37 ballot points |
| Evan Hoffman |  Edmonton Warriors |  33 ballot points |
| Ryan Petryshyn |  Edmonton Warriors |  30 ballot points |
| Justin Brann |  Sturgeon Paladins |  28 ballot points |
| Nick Audet |  Edmonton Athletics |  23 ballot points |
| Andrew Grafton |  Legal Indians |  21 ballot points |
The NCABL's top ten most valuable players of the year were selected using a double balloting system conducted by League Office with the cooperation of club management.

Ken Schultz Memorial Award: presented to a builder, promoter, or umpire whose long term contributions to baseball in North Central Alberta have significantly impacted the sport
Recipient: Dan Rude, Edmonton

Dan Rude hails from Westlock, Alberta, and once played for the storied Red Lions of the North Central Alberta Baseball League. Since moving to Edmonton as a young family man, Dan has not ceased being an active contributor to the game of baseball. His involvement with minor baseball began in Jasper Place where he has spent fifteen years working with the youth of that part of Edmonton both as a coach and umpire as well as on the Board of the South Jasper Place Minor Baseball Association. While on the Board, Dan has served as Treasurer, Promotions Director, Registrar, and more recently as President. Dan's involvement in the promotion of recreational baseball is well documented in the Edmonton area. In addition to his work locally, Dan serves as the Baseball Alberta Director for Zone 6. Dan has been previously recognized for his involvement in the game of baseball as a recipient of the Wally Footz Builders Award in 2009 and the Baseball Alberta President's Award in 2011. To these accomplishments, the North Central Alberta Baseball League wishes to add its most prestigious individual award, the Ken Schultz Memorial Award. Our congratulations to Dan Rude, 2012 recipient of the Ken Schultz Memorial Award for distinguished service to baseball.

NCABL Education Grant: provided through the generous support of our friends at Servus Credit Union
Presented to Kyle Muzechka, Camrose Axemen

The North Central Alberta Baseball League has a strong complement of young players attending post-secondary institutions. It is the League's contention that sport promotes strong and essential attributes that can be carried forward and applied in one's work life and family life. Along with Servus Credit Union, our partners in this endeavor, the NCABL recognizes a deserving young athlete at the end of every regular season. Kyle Muzechka of the Camrose Axemen is the 2012 recipient of the NCABL Educational Grant. Kyle's love of baseball began at a very early age in the community of Vegreville, Alberta, and progressed as a result of his dedication and commitment to perfecting his skills. Kyle enjoyed his minor baseball years in Rocky Mountain House under Harold Northcott as well as in Sherwood Park under Nathan Schweitzer and Randy Ferbey. As a member of Team Alberta at the Western Summer Games, Kyle pitched and won the gold medal game. More importantly, Kyle has always understood the importance of pursuing educational goals as well. Currently enrolled at William Woods University in Fulton, Missouri, Kyle is pursuing his post-secondary studies in the hope of graduating with a bachelor's degree in Sports Management. Aware of the contributions of others to his own growth and development throughout his lifetime, Kyle is eager to one day give back in much the same way that he received. The North Central Alberta Baseball League is proud to be partnered with Servus Credit Union and joins with them in congratulating Kyle Muzechka of the Camrose Axemen.