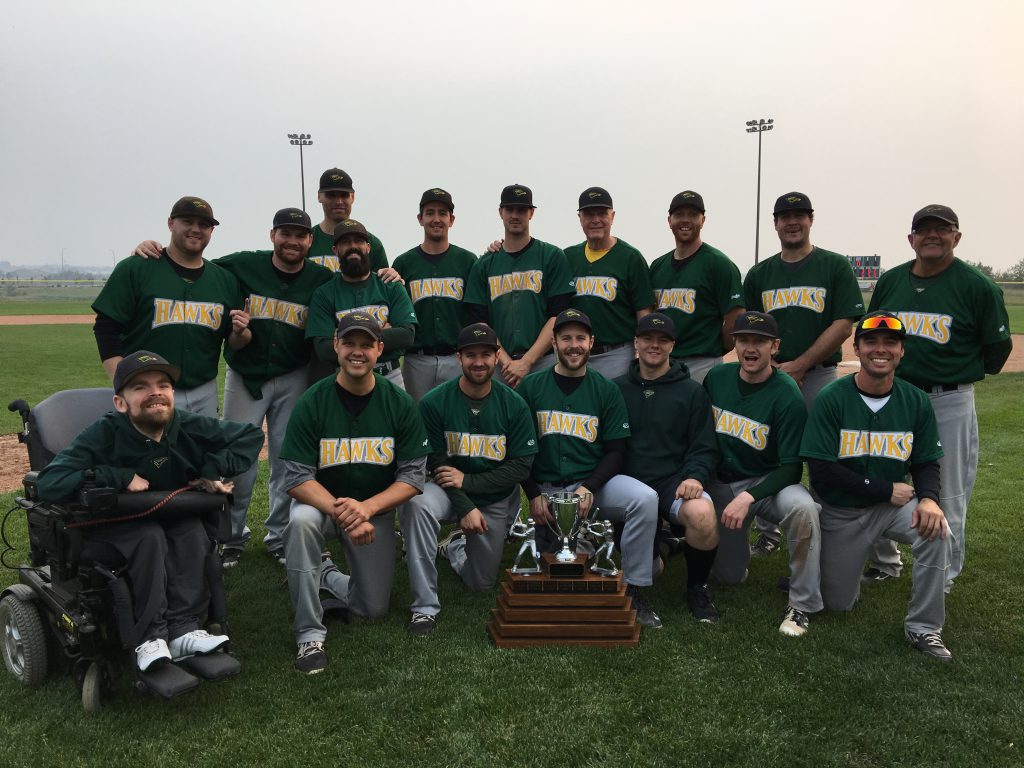 The Edmonton Blackhawks pose for a team picture after clinching the NCABL Championship.
Pennant Champions to Face Red Lions
If last season's Championship Series at Remax Field isn't enough motivation for the Athletics, nothing will be. The 2018 NCABL pennant champions have refocused and their sights are no longer set on only making a post-season appearance as the team had done in 2012 and 2013 along with back to back appearances in 2016 and 2017. None of these previous appearances produced the desired end result of a Championship while only one resulted in an appearance in the LCS. Now in their ninth NCABL campaign, the class of Sherwood Park's AAA minor baseball system are poised to show the baseball world that they are indeed ready to establish themselves as the new League Champions. The still youthful yet well balanced club will, however, be challenged by the League's perennial contenders and winningest club, the Westlock Red Lions. The wily and talented Red Lions will, however, be missing several key players for their semi-final tilt against the Athletics as both Watamaniuk brothers will have already reported to their respective US schools and a new season of baseball on the other side of the border. Will the Red Lions be resilient enough to withstand the offensive assault of the Athletics who at last printing had placed five players on the top twenty hitters list including the League's top hitter, Evan Hole, who held a .554 batting average nearing the close of the regular season? (Official year-end statistics are scheduled to be released prior to the start of the Series) Pundits will remind us that perennial holds a special meaning in every Red Lion heart, but the reality this post season is that these Athletics are hungrier than ever and ready for the challenge. If the depleted Red Lion pitching staff can withstand the offensive assault that they will surely be facing, don't count them out. But the statistics do not favour another crown for the current Champions.
This series may be too close to call if an analysis of regular season play between these two clubs is to be taken into consideration. The league opener resulted in the League's only tie game (6-6) of the season, while the second game went two extra innings with the spoils going in favour of the Mets. Stony Plain was forced to stave off a late inning resurgence by the Hawks in the third game of their regular season series to take home a 7-5 victory and along with that win, a decisive margin of victory over the season. Two veteran clubs will be doing battle in this series. Both have enjoyed postseason success and both clubs can field a solid defensive alignment. Important late season trends may cast some insights into each club's readiness entering the post season. The Mets have lost a little momentum due to a weaker than expected finish to the regular season. Whether the club can rebound from it remains to be seen. The Blackhawks, on the other hand, continue to possess all of the weapons of a strong contender. Their slight descent to third spot in the standings can probably be attributed to having to field a line-up which has not always included their top guns at every position. Providing that this situation can be remedied, the Blackhawks have strong veteran pitching which could turn this series into a defensive battle . The addition of Josh Turner to the Blackhawk batting order has added strength, while Sam Ewanishan is enjoying a top twenty season along with Jamie Wilson and Regan Hoet. The Mets will be counting on a healthy Kyle Radke both for his defensive and offensive contributions, but the shortstop's prognosis is uncertain at this time. The promising young prospect, Lee Worobec, will have to shine in the Mets rotation. He will, however, be capably supported by Darren Adams and veteran outfielder turned pitcher, Brad Walde, whose effectiveness at this new position has seen him place among the League's top ten pitchers. This series is too close to call unless player commitment or eligibility issues cloud the outcome.
Championship Semi-Final Series A
Saturday, August 18th. To be played at Keller Field in Westlock, Alberta.
11:00 AM
Westlock Red Lions
9
vs.
Sherwood Park Athletics (H)
10
5:00 PM
Sherwood Park Athletics
8
vs.
Westlock Red Lions (H)
13
Sunday, August 19th. Series to be continued if a third and deciding game is necessary.
11:00 AM
Westlock Red Lions
4
vs.
Sherwood Park Athletics (H)
10
 
 
 
 
 
 
Championship Semi-Finals Series B
Saturday, August 18th. To be played at Keller Field in Westlock, Alberta
2:00 PM
Edmonton Blackhawks
3
vs.
Stony Plain Mets (H)
7
Sunday, August 19th.
2:00 PM
Stony Plain Mets
7
vs.
Edmonton Blackhawks (H)
3
Series to be continued if a third and deciding game is necessary.
5:00 PM
Edmonton Blackhawks
2
vs.
Stony Plain Mets
1
League Championship Final Series: Best of three
Saturday, August 25th: Centennial Park in Sherwood Park, Alberta
1:00 PM
Sherwood Park Athletics
 
vs.
Edmonton Blackhawks
 
3:50 PM
On-field Awards Ceremony (part two)
 
4:10
Sherwood Park Athletics
 
vs.
Edmonton Blackhawks
 
 
 
 
 
 
 
Sunday, August 26th: (Game three if necessary)
2:00 PM
Sherwood Park Athletics
 
vs.
Edmonton Blackhawks
 
 
Athletics Counting on Good Weather Night
The Sherwood Park Athletics were forced to cancel their first attempt at scheduling a fan appreciation night, but this time the weatherman appears to be on their side as the Athletics prepare to host what has become an annual fan appreciation night at Centennial Park. Fans should not only be treated to a competitive game of baseball on Friday, July 27th, but the food and beer on offer will also satisfy the pallet. The Westlock Red Lions will be rolling into town tied with the St. Albert Cardinals for the last post-season berth but holding a game in hand over St. Albert. The Athletics, on the other hand, are anchored in first place with a single game lead over the Mets who have played one more game than the Athletics. As both the pennant race and post-season race heat up, the baseball atmosphere should be to the boiling point. Good reason not to miss the action on Friday.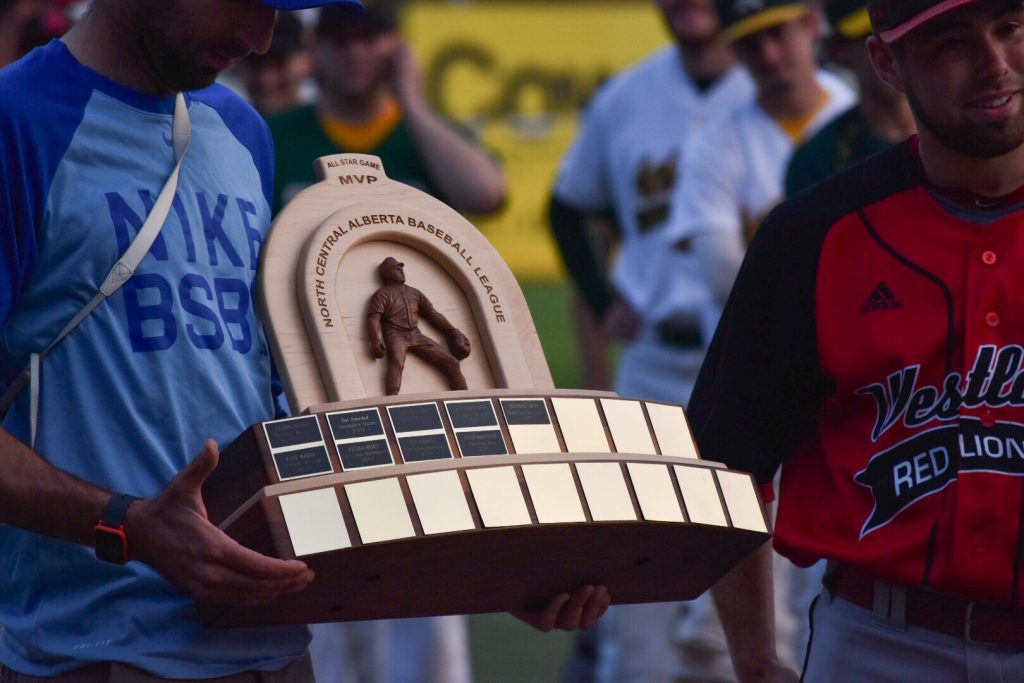 Austin Watamaniuk earned MVP of the Game honours (credit RBB photography)
Another Red Lion Shines at All-Star Game
Austin Watamaniuk wasted no time in laying claim to Westlock's second consecutive All-Star Game MVP selection. The award was won by Nathan Swap in the 50th anniversary edition of the All-Star Game. The slick second baseman helped the home club Beverly Optimist All-Stars defeat the Morinville Jiffy Lube All-stars 6 – 4 on Wednesday night before a boisterous crowd at Remax Field in Edmonton. Watamaniuk played solidly at second base and was absolutely on fire at the plate. He reached first base all four times he was at the plate, reaching first on a walk and a hit by pitch to go along with a double, a triple, 2 RBI's, and a stolen base. This marked the 10th year the hand carved MVP Trophy has been in service and the ninth time that it has been awarded to the most valuable player in the All-Star Game.
Morinville Jiffy Lube Jumps On Board
Owner-operator Craig Klettke jumped at the opportunity to join the NCABL family of sponsors by lending his business name to one of two NCABL All-Star Clubs about to do battle at Remax Field on Wednesday, July 25th, in Edmonton. Morinville Jiffy Lube is hopeful that by giving baseball and the Town of Morinville more exposure across the entire capital region, more serious attention will subsequently be given to the immediate need for a major league sized baseball park to be built as part of the Town's projected multiplex sports facility. Once touted as being a hotbed of baseball within the Sturgeon County, Morinville has not had a diamond capable of accommodating Midget Division Baseball or any age category above it for years. The last playable site for this category of baseball was on the Frontier Daze grounds behind the Shell Station on Morinville's Main Street. The last NCABL club to call Morinville home were the Morinville Merlins back in 1997. Currently, graduating players of Midget age from Morinville who aspire to play representative baseball must travel to St. Albert and join SAMBA, the highly organized minor baseball association in that city. Morinville continues to be recognized by the North Central Alberta Baseball League as the official seat of the League and opened its Hall of Fame in that community as part of the League's 50th anniversary celebrations last year. According to Commissioner Riopel, the Town of Morinville and the County of Sturgeon are being presented with a golden opportunity to reintroduce high calibre baseball to the area. Currently, the Sturgeon Paladins who play out of Bon Accord remain as the lone franchise within the NCABL. The Sturgeon landscape was formerly dotted with baseball clubs with franchises in many localities including Horse Hills, Gibbons, Redwater, Legal, Morinville, Alexander, and Terra Pines among others. Centralized facilities would go a long way towards re-introducing quality baseball into the County according to the Commissioner. Morinville Jiffy Lube have taken a bold step in supporting both their community and the NCABL at a time when their own community is wanting for both a club and a suitable facility.
Provincial Supervisor of Umpires To Work All-Star Game
Brandon Strocki, Alberta's provincial supervisor of umpires for baseball, will be serving as crew chief and will work the plate for the 2018 NCABL All-Star Game on Wednesday, July 25th, at Remax Field in Edmonton. Veteran umpire Jim Crawford, who will be receiving a ten year service award from Commissioner Riopel in a pre-game ceremony will be working first base. Sophomore umpire Bill Duncan has been assigned to third base to complete the trio for this year's seven inning contest. Presentations will begin at 6:45 PM. The first pitch will go at 6:55 PM.
Alexander Nation Drummers to Perform At All-Star Game
Following the fourth inning, the All-Star Game will be paused as the Alexander Nation Drummers take to the field to entertain NCABL fans. Following these renowned drummers, the NCABL will be making a significant official announcement which, according to Commissioner Riopel, will positively impact the growth and continued development of the League. Following the game, the media will be invited into the Remax Lounge and given an opportunity to meet the players, managers, and coaches as well as interview a select group of baseball alumni from the Alexander Nation's former baseball club, the Braves. Bob Kootenay, a member of this club and a former resident of Alexander, gave his name posthumously to the Manager of the Year Trophy presented annually in the NCABL to the most deserving manager. Bob was as colourful a baseball figure as any there were in the 60's in these parts and his skill set earned him a professional baseball tryout at a time when Canadian kids were not being actively scouted. Nothing substitutes for a great baseball story as told by these old-timers.
NCABL Finalizes the 2018 All-Star Rosters
The North Central Alberta Baseball League
presents the 2018 home club
Beverly Optimist Club All-Stars
 
 
 
 
 
 
 
 
 
 
Curtis Burlet
#31
Westlock Red Lions
Selected
Pitcher
Nathan Reay
#5
Sherwood Pk. Athletics
Selected
Pitcher
Mac Hillman
#NA
Edmonton Primeaus
Selected
Pitcher
Regan Hoet
#31
Edmonton Blackhawks
Selected
Pitcher
Sam Ewanishan
#5
Edmonton Blackhawks
Voted
Catcher
Brett McElroy
#16
Sherwood Pk. Athletics
Voted
First Base
Austin Watamaniuk
#6
Westlock Red Lions
Voted
Second Base
Ryan Poeter
#44
Edmonton Primeaus
Voted
Third Base
Cody McElroy
#2
Sherwood Pk. Athletics
Voted
Shortstop
Carson Kirwer
#28
Sherwood Pk. Athletics
Selected
Left Field
Chris Brand
#8
Westlock Red Lions
Voted
Centre Field
Evan Hole
#21
Sherwood Pk. Athletics
Voted
Right FIeld
Nathan Brown
#21
Westlock Red Lions
Selected
Outfield
Cole Viger
#55
Sherwood Pk. Athletics
Selected
Utility
Josh Turner
#26
Edmonton Blackhawks
Selected
DH
Brett McElroy
#16
Sherwood Pk. Athletics
Selected
Manager
The North Central Alberta Baseball League
presents the 2018 visitng club
Morinville Jiffy Lube Club All-Stars
 
 
 
 
 
 
 
 
 
 
Tanner McLean-Poll
#21
St. Albert Cardinals
Voted
Pitcher
Branden Larsen
#8
St. Albert Cardinals
Selected
Pitcher
Anthony Qaqish
#11
Edmonton Athletics
Selected
Pitcher
Darren Adams
#2
Stony Plain Mets
Selected
Pitcher
Lee Worobec
#3
Stony Plain Mets
Selected
Catcher
Scott St. Jean
#30
Sturgeon Paladins
Selected
First Base
Tyler Lyster
#9
Stony Plain Mets
Selected
Second Base
Tyson Stasiuk
#21
Edmonton Athletics
Selected
Second Base
Ian Overend
#29
Sturgeon Paladins
Selected
Third Base
Brad Michaleski
#1
Stony Plain Mets
Selected
Third Base
Nic Arlia
#15
St. Albert Cardinals
Selected
Shortstop
Matt Jones
#28
Edmonton Athletics
Selected
Left Field
Hayden Chies
#6
St. Albert Cardinals
Voted
Centre Field
Mark Trela
#19
Edmonton Athletics
Voted
Utility
Bryan Bartman
#22
Sturgeon Paladins
Selected
Utility
Matt Jones
#28
Stony Plain Mets
Selected
Manager
The NCABL Releases the Voted All-Stars
The Beverly Optimist All-Stars will be fielding seven of the ten players voted to the 2018 All-Star Club. The All-Star Game is to be played at Remax Field on Wednesday, July 25th. Game time is 6:55 PM. Only two clubs from the visiting side, the St. Albert Cardinals and Edmonton Athletics, managed to place any players onto the prestigious list of "voted all-stars" this season. Tanner McLean-Poll's 1.62 mid-season ERA and league leading 32 strike outs assured him of enough votes, while Hayden Chies outpolled all outfielders by posting a .463 batting average while patrolling centre field without a single error in the first half of the season. Mark Trela of the Edmonton Athletics received most votes at the utility position on the strength of his steady bat and effective relief pitching.
All other selections recognized players who will be representing the Beverly Optimist AllStars in this year's game. The league leading Sherwood Park Athletics placed three players on this honour list, the Blackhawks placed one, the Red Lions two, and the Primeaus one. Cody McElroy, the Sherwood Park shortstop, led all voting among infielders while his brother Brett also garnered "voted" honours at first base for the Athletics. Evan Hole, a sure handed outfielder with a .583 batting average will compliment the Optimist outfield. Sam Ewanishan, a veteran catcher and previous AllStar from the Blackhawks will anchor the home club at that position. The Red Lions placed their youthful second baseman, Austin Watamaniuk, onto the podium along with outfielder Chris Brand, the 2015 and 2017 most valuable player in the League Championship Series. Rounding out the home club's voted all-stars will be Ryan Poeter of the Primeaus whose .387 batting average on 66 plate appearances drew the attention of management despite having committed seven errors at third base to this point in the regular season
All-Star Tilt Set for Remax Field
The 2018 All-Star Game will be hosted by the NCABL on Wednesday, July 25th, at Remax Field in Edmonton. Club sponsors who will be lending their names to both the home and visiting sides will be officially announced next week at the same time as the names of the voted All-Stars from across the entire North Central Alberta Baseball League are released. The alignment for this year's game will see players from the League leading Sherwood Park Athletics join forces with the Edmonton Blackhawks, Westlock Red Lions, and Edmonton Primeaus to confront the stars from the Stony Plain Mets, St. Albert Cardinals, Edmonton Athletics, and Sturgeon Paladins. The home club will be managed by Brett McElroy from Sherwood Park, while the visitors will be managed by Steven Cote of the Mets. The first pitch is scheduled for 6:55 PM. Admission for adults is $5, while students will pay only $3. Pre-school kids enter free of charge if accompanied by a parent or guardian. All admission tickets will be entered to win some great prizes to be drawn throughout the evening.
The NCABL and Umpire Community Mourns the Loss of a Core Umpire/Alumni, Colleague and Friend who Succumbs to his Battle with Cancer
Steve Bluett's courageous battle with cancer came to an end at 6:30 am on Saturday morning in Edmonton, Alberta. Steve first met Commissioner Riopel in the 80's and the two of them worked many games together throughout the 1980's and 1990's. Steve served the NCABL as a core and casual umpire over the course of several decades, bringing his flamboyant style to a League he truly enjoyed working in. A consummate optimist, Steve loved the game of baseball and all of the people who were exposed to his contagious love of sports in general could not help but feel uplifted by his joy and enthusiasm for life. His appreciation and respect for everyone he met served to build bridges wherever he went.

His passing cannot, therefore, be seen as anything but an opportunity for us all to rejoice in what we have been given to enjoy. Our greatest tribute to the man must reflect his love and respect for his fellow man and his deep appreciation for his God given gifts. The NCABL family wishes to extend condolences to Steve's wife, Audrey, and to all of Steve's family.

The service for Steve has been announced, it will take place on Monday June 4th, 11:00 am @ Park Memorial Chapel 9709-111 Ave, Edmonton T5G 0B2. See the link below for more information.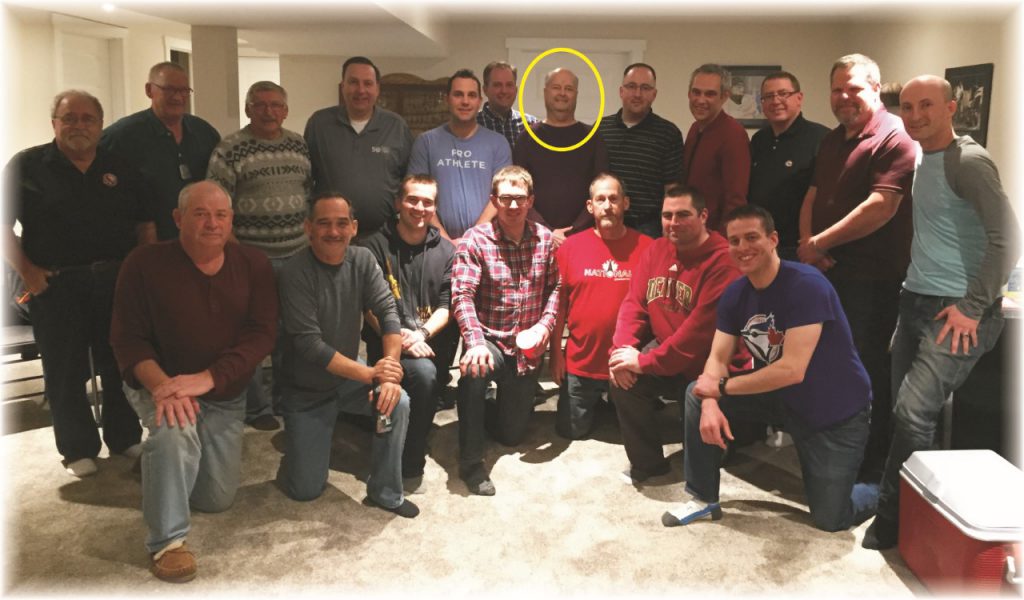 League Seeks Director of Social Media
Following a report filed by Peter Shepert and presented to the Board of Governors at its Spring Bi-Annual Meeting, the NCABL is actively seeking to replace its former director of audio-visual programming, Mr. Earl Thompson, with a new head of social media. Earl served the NCABL well during his tenure with the League by introducing new and innovative programming such as his popular podcast "Circling the Bases" which will be sorely missed. Thompson also began active coverage of the NCABL through twitter while providing coverage on Facebook as well. With his departure following the 2017 50th anniversary season, that volunteer staff position has been noticeably vacant. The League appreciates the exposure it receives through social media options and desires to re-establish a presence there. According to Commissioner Riopel, the League is open to entertaining proposals from individuals interested in undertaking very specific projects in the social media world. "We would be ready to approve undertakings of a more limited scope and partition them out to several individuals who are comfortable working within this platform", commented Riopel. Mr. Shepert's report highlighted many areas which might be of interest to persons wanting to be engaged in the media world. These ideas ranged from responsibility over an NCABL twitter account, to writing a weekly performance of the week feature for the website's main page, to roaming NCABL territory with a camera in hand to capture sport highlights from League play, to reviving the weekly podcast "Circling the Bases" with a new host. "The League 's social media director would be in a perfect position to work cooperatively with the media managers from every club in the League (currently referred to as public relations reps) in order to focus on inside stories and interviews from every corner of the League", concluded the Commissioner.
Official Scoring Clinic Offers Live Game Component
All official scorers with previous NCABL experience will be offered an exciting new twist at this year's Official Scoring Clinic. A full day of classroom presentations will be replaced with a half day program followed by another half day of on-field practice and evaluation scheduled on another date. During a regularly scheduled pre-season game, returning scorers will be asked to score a live game and to produce a game summary thereafter. A complete dissection of that game will follow led by the League's Official Statistician, Ryan Petryshyn. With the official scoresheets and summaries submitted for appraisal, candidates will be provided with a raw score for that game reflecting their accuracy in reporting the game's statistical content. So as to remain sharply focused on the art of scoring, the League will be encouraging official scorers to annually attend a scoring clinic. For doing so and for achieving an honours standing in the live component of the game being scored, candidates will earn for themselves a voucher from the League worth $10 per game for every game scored during the regular NCABL season and post-season. "By constantly seeking to improve the quality of our products at every level using positive reinforcements, we will come ever closer to proving that we are the most progressive baseball league in Alberta", offered Commissioner Riopel.
Axemen Exit the NCABL After Leaving Their Mark
The 2018 season will begin in the NCABL without the presence of the Camrose Axemen whose ten year run was highlighted with both highs and lows. The club entered the League in 2008 and posted a respectable 9W and 9L record in their inaugural season. After slipping into 9th place in the 2009 campaign, the Axemen would recover by ranking 6th and 5th in each of the next two seasons. The Axemen came into their own in a highly competitive NCABL in 2012 by posting a 14 W 4L record to capture their first of two back to back pennants. Although the League Championship eluded them throughout the decade, their four post season appearances from 2012 -15 established their reputation as a solid club with talented and experienced players combined with an up and coming crop of young prospects that augured well for the future of the club. Unfortunately, the future of AA baseball in the City of Camrose was dealt a severe blow with the departure of key veterans through retirement and the loss of several young and talented prospects who chose to play in collegiate leagues outside of Alberta. The Axemen were suddenly faced with a rapidly depleting roster and despite a valiant effort at sustaining some credibility in 2016 by playing .500 baseball, last season proved to be disastrous as the club dropped to 7th place in the NCABL after recording only 4 wins on the season. Although the minor baseball system in Camrose has experienced some new life, too few graduating midget players were ready to commit to playing at a AA senior level. The city of Camrose certainly has the fan base to support a club in the NCABL. All that is needed is a city council that is prepared to invest in facilities capable of attracting higher calibre baseball to town. Once achieved, it is our belief that Camrose will once again demonstrate that it is a "quality baseball town". With a strong supporting cast of rural baseball players, Camrose can return to power in the NCABL.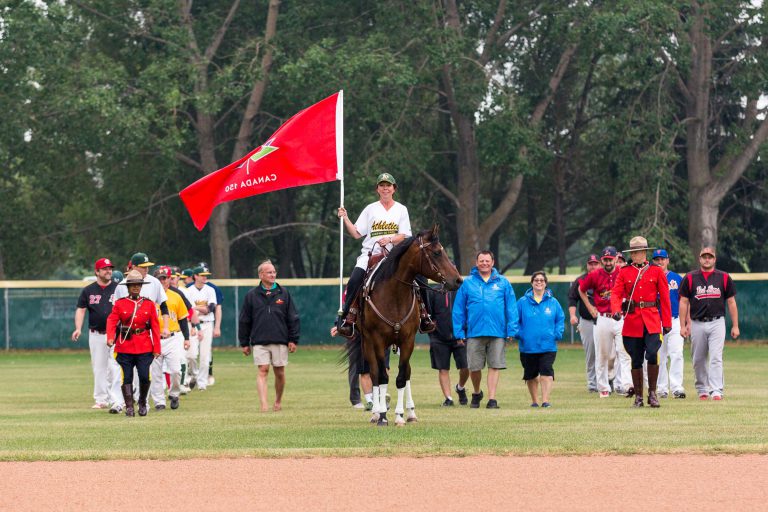 Parade marshall Celine McElroy on Cisco leads the grand entrance. To her right, Associate Commissioner Ed Ewasiuk while to her left, Darrell Dingwall and Shelly Lake representing our sponsors, the Beverly Optimist Club of Edmonton.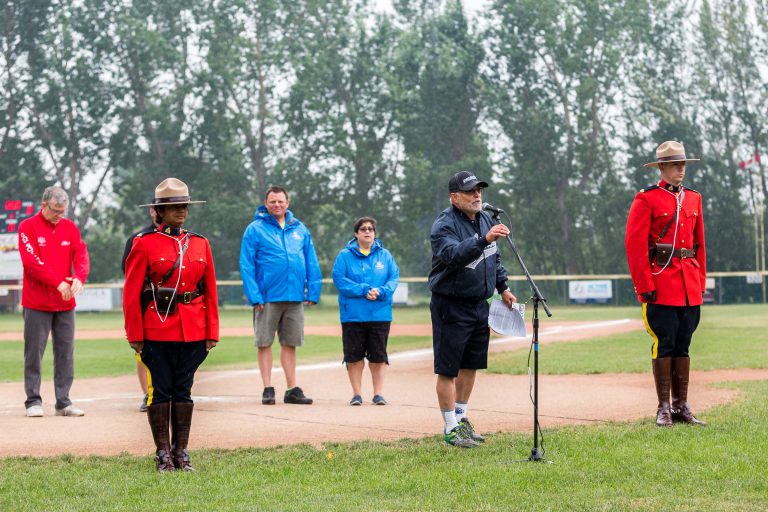 Commissioner Riopel is seen thanking 50th anniversary Director Ed Ewasiuk for his countless hours spent on the All-Star Event. Also mentioned was Kurtus Millar, SAMBA President, who lent the League his enthusiastic support.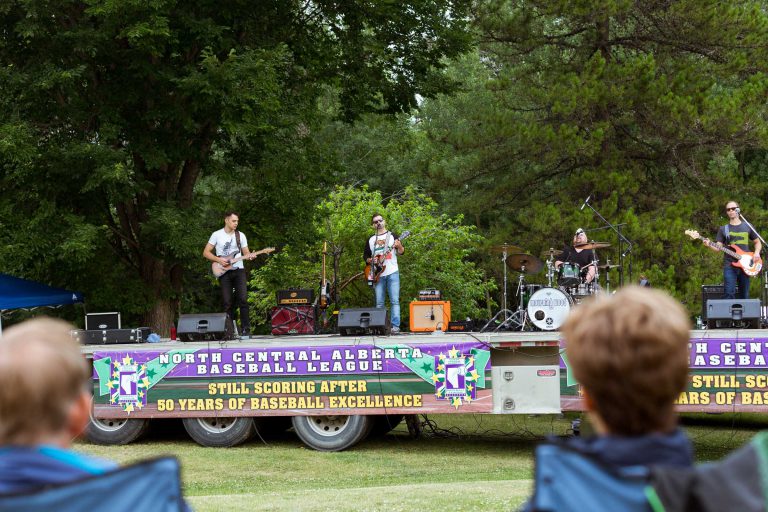 "Mourning Wood" delighted the crowd with two dynamic sets during the tail gate rock concert which preceded the All-Star Game.
NCABL Hall of Fame Opens in Morinville
The first sport specific Hall of Fame to be opened in Alberta by an amateur league was dedicated during an official ceremony in Morinville on the evening of April 6th. Housed in the Morinville Historical Museum, the Hall of Fame will henceforth become the permanent home for the NCABL's major annual awards. Also to be housed in this location will be the League's extensive archival collection including administrative manuals, comprehensive statistical data on teams and players, press books, and artifacts of historical note.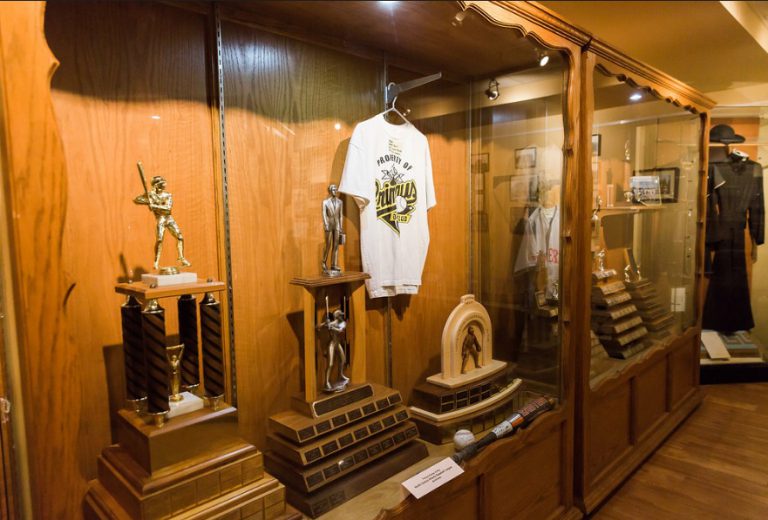 Beautiful oak cabinets with soft interior lighting provide a rich backdrop for the League's major awards.
The event was attended by mayors, deputy mayors, and councillors from numerous municipal jurisdictions. Joining them were representatives from the NCABL Board of Governors, Directors from the NCABL 50th Anniversary Executive Committee, members from the Morinville Historical Society, and other special guests. Covering the event were numerous media sources from the region. Murray Knight welcomed those gathered on behalf of the Morinville Historical Society before introducing Commissioner Paul Riopel who spoke warmly of the partnership between the League and the Historical Society. Mr. Riopel then turned his attention to depicting baseball as a significant contributor to the development and fabric of early pioneer life before morphing into the highly skilled game we have grown to know today.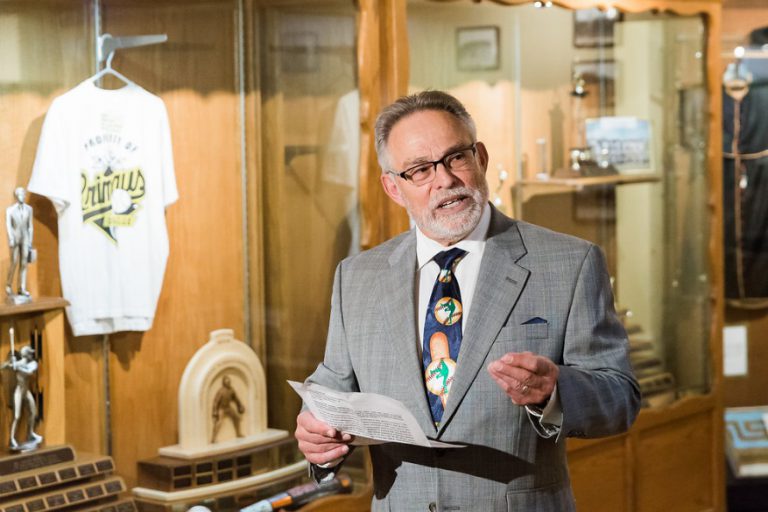 Commissioner Riopel delivers the welcoming address before forty dignitaries to open the NCABL Hall of Fame.
The ribbon cutting ceremony was presided over by Deputy-Mayor Nicole Boutestein from Morinville, City Mayor Nolan Crouse from St. Albert, and Councillor Curtis Snell from Westlock. The three aforementioned communities were all designated as host sites for the NCABL's six 50th anniversary events running from April through August of this year in conjunction with Canada's 150th birthday.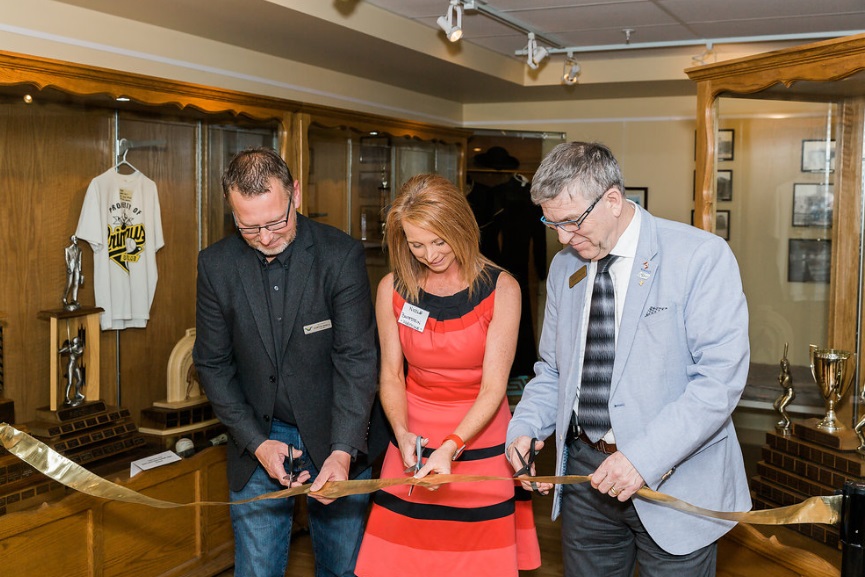 (From left to right) Councillor Curtis Snell, Deputy-Mayor Nicole Boutestein, and Mayor Nolan Crouse are focused on during the official ribbon cutting ceremony which opened the NCABL Hall of Fame.
Sherwood Park Athletics Host A Special Fan Appreciation Night on Friday
A family friendly event is being planned by the Athletics in Sherwood Park when the club hosts the Westlock Red Lions in a 7:15 pm regular season home game. Great food provided by a local food truck will go hand in hand with beer sales in the grandstand during this second annual event. Fans will also be rewarded with special draws for some great prizes throughout the game. The Sherwood Park Athletics are currently enjoying their best regular season start ever and currently lead in the League standings. The Athletics want their fans to join them on Friday evening for what promises to be an entertaining NCABL regular season game and a lot of fun for everyone in attendance. The game will be played at Centennial Park this Friday, June 15th. Admission is free.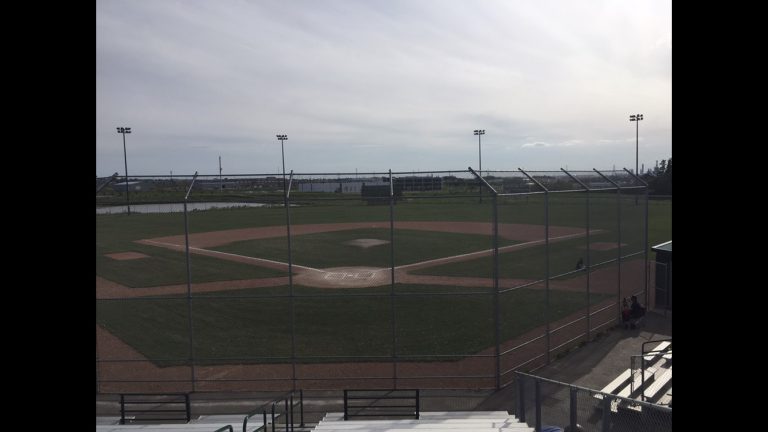 Board of Governors Releases 2018 Schedule
The NCABL officially approved an 84 game regular season for 2018. Opening day in the NCABL will be on May 9th when the Mets will play host to the Edmonton Blackhawks. Last season's rivalry will be ignited early as the pennant winning Mets meet the second place Blackhawks in the lone contest. The All-Star Game has been scheduled for July 25th at Remax Field in Edmonton while the semi-final series' will be played at Keller Field on August 18th and 19th during the Westlock & District Agricultural Fair. The final week-end of play will be hosted by the highest ranking club to emerge from the semi-final series. Regular items of business included the approval of the core of umpires to work the League, the incorporation of the code of conduct within the Spring Training sessions along with a review of new policy directives approved at last fall's board of governors meeting.
Official Scoring Clinic Open to Minor Baseball Associations
The North Central Alberta Baseball League will once again be hosting its annual scoring clinic at Bessie Nichols School in Edmonton on Saturday, April 28. Interested persons must pre-register by E-mailing League Office by April 26th leaving a name,a sponsoring baseball organization, telephone number, E-mail address, and whether they are attending for the first time or are a repeat attendee. There is no cost for scorers who will be working in the NCABL this season, while a $35 cost will apply to everyone else. Please inquire as to whether or not you qualify for a discounted price. Lunch and all necessary materials will be provided at no additional cost. The clinic lead will be in the capable hands of Official Statistician Ryan Petryshyn. Actual registrations will be taking place on site at 9:00 am. Everyone is welcome.